Day 2: Bone marrow biopsy and Hickman lines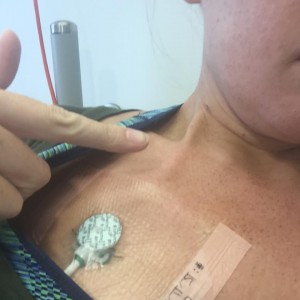 November 12, 2015
My first night in hospital wasn't the greatest, Mum stayed with me and think we got about the same amount of sleep. So many things going through my head, and hers too no doubt.
The wonderful and very caring nurses came around at 2 am and 6:30 am to perform checks of my BP, HR and temperature, all ok. I couldn't get back to sleep after my 6:30 am test as read some messages/emails I'd received from friends, which made me upset due to their kind and encouraging words of support and love. Think sleeping may be hard to begin with…
My main doctors came and spoke with us again in the morning, and gave us more information on the plan of action and offered details of the research drug trial currently running that I could take part in. We also met and chatted with my specialist Macmillan nurse who was so warm and caring. She explained everything very clearly and settled Mum well. You hear so many wonderful stories about Macmillan nurses and I am pleased to report I can confirm they are all true. Everyone is so nice here, I know I keep saying it, but it's truly overwhelming!
The local anaesthetic to the hip was pretty painful, but the actual procedure wasn't too bad, just uncomfortable. I found it pretty interesting, and was keen to see the needles and samples that were taken. Is that odd?
My sister Harriet and our close friend Vicky arrived around lunch time, it was so great to see and hug them. Such a relief to finally see your closest people face to face after the anticipation of telling them over the phone or in a text message. Thanks for being so strong guys and cracking inappropriate jokes, it felt good to laugh as we always do!!
I was then taken down to have my Hickman (central) line fitted.
Man did this hurt… again local anaesthetic was not comfy, and the procedure was invasive and felt pretty brutal for such a delicate part of the body. The procedure involves feeding a line into my neck vein and down my chest. I would take 10 bone marrow biopsy any day over that procedure, but this is my life line to the Chemotherapy and getting better, so I suppose I'll learn to love it (Hickman line 1 – Alex 0). The nurses and surgeons were as always so lovely and supportive and personally wheeled me back to my room!
Harriet (my beautiful sister) stayed with me for my second night, and assisted with moving me on/off bed as my chest and neck were very sore from the procedure. Got to make use of those muscles in and out the gym. Thanks Pooks, that was a rough night!
Absorb this message: "Positivity breeds positivity"