Stem Cell Transplant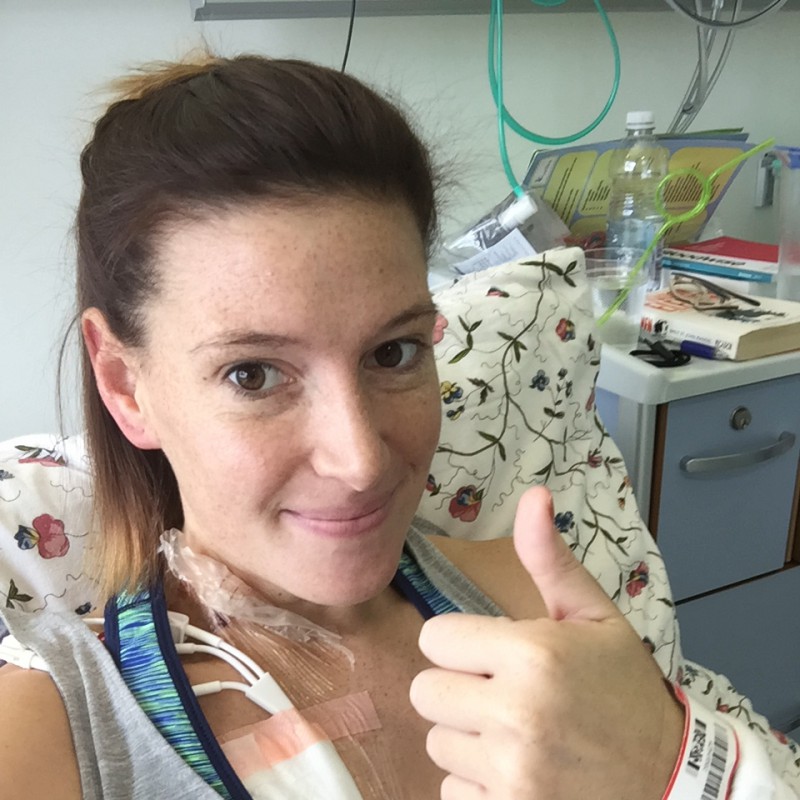 Stem Cell Transplant
I want to document my stem cell transplant as other than the 7 steps to transplant book you are given and some generic information on certain websites, which I found to be impersonal, I couldn't find much personal documenting available online. I hope it is useful to others embarking on this phase of treatment.
Day +95
Treatment DOESN'T just end when you get home from a stem cell transplant, it can take 6-12 months for most to get their lives back on track following this medical magic, no doubt experiencing some 'bumps' along the way. Just to give you some idea of life at home for me ATM – I spent 18 hrs at hospital appointments this week for various treatments and clinic appointments and the rest of the time at home indoors keeping myself busy and trying to strengthen my old lady legs!
What being home DOES mean is you are hopefully on the road to recovery surrounded by your family, loved ones and home comforts. Today I was able to go outside, pop to the shops, and have coffee and doughnut with my sister all because it wasn't sunny. The sun is too damaging to my skin ATM following the treatment I've had and so I have hardly left the house since being home (but I hear 'WINTER IS COMING', so soon I will be able to be outside and out and about more)! Never have I wished away a summer… 
I am truly blessed to have had the chance of this treatment. Cherish every small component of your life, they are all so precious! Today if you have a moment, think about how fortunate we truly are!
Getting Home – Day +67
After 11 weeks (77 days since admission), I am on my way home from hospital. I am a little overwhelmed right now. By no means is my stem cell transplant and recovery complete, but getting home has been a long time coming!! I want to thank all my wonderful family and friends for their continued love and support during this time, I couldn't have got through it without you. But most importantly, my Mum, who spent almost everyday with me and got me through the exceptionally tough times. I can't wait to get into my own bed tonight!
Day +43-67
What a huge gap in documenting! I found it too tough to document each day during this period, I was depressed and really sick of sharing everything I was going through, and so I have added this paragraph since getting home as feel a OK sharing it now. I spent a further 3 weeks being treated for the CMV reactivation, so an 5 extra weeks in hospital!! This time in hospital was the hardest part of my entire stay. I was very 'well' overall, with no physical symptoms of infection, and felt well and healthy in myself, and so I was just isolated to my room, with not much to do. I continued to be treated with Foscarnate for the CMV reactivation, which is an IV medication that is run over 4 hours with 2 litres of electrolyte hydration either side, administered twice a day. I found this treatment very tough and due to the repetitive nature where I was hooked up to the IV stand for a long portion of the afternoon from 5 pm-9pm and again from 5 am-9 am for the second phase, I felt I become conditioned to this treatment with regard to my daily routine and specifically sleeping pattern (or lack there of). On top of this treatment I was still on a relatively high dose of steroids, with the doctors slowly reducing the dose every 10-12 days, which alongside my general lack of movement for 11 weeks, were slowly diminishing any muscle mass I had remaining. This meant that my physical capabilities had dramatically reduced in comparison to where I was when I initially might have gotten home at 6 weeks, before the CMV reactivated. I found those final 3 weeks in hospital the most testing psychologically too, and experienced some really testing times. The doctors saw how depressed I was and suggested they let us start to go out on day leave, and this was definitely my saving grace. Mum and I were able to pop to various places around Southampton and the New Forest in the mornings and get back in time for the treatment in the afternoon.
Day +42
YES I am still in hospital! Feeling like a caged bird ATM and trying to remember how to sing! Inspired by these words I've ordered Maya Angelou's book! My CMV levels have been up and down in these past two weeks of treatment, which the doctors think is down to the high dose steroids I'm on, blocking the effects of the CMV treatment (Foscarnate). It is imperative that they reduce my steroids slowly as this is what's keeping the GvHD at bay and we don't want to agitate that again. So it's a balancing act for them with all the different drugs I am on. Really tough to hear the values aren't more stable, but got to take stock in the fact I am symptom free and feeling well and they are on top of both these potential risks. Though it is rubbish still being in here… There is no alternative and I'm sucking it up!! I came into hospital on the 10th May and it is now the 1st July – can't quite believe it. Thankfully, Wimbledon is getting me through each day currently!
Day +32
Spoke to soon!! 'Accepting what will be, will be' – Today I was all packed and ready to leave hospital after 6 weeks here, unfortunately a few things changed this morning which has resulted in a change in plans. My C
MV levels are elevated, which is a virus I had at some point in my life, which remains dormant without any further symptoms usually, however when you are being treated with steroids which further suppress your immune system that has just been knocked for 6 during a stem cell transplant, any untreated CMV can be fatal. The best way to monitor me and treat this is with IV drugs which means I'm looking at another ~2 weeks in hospital. This news was heartbreaking as I literally was a few hours from release and feels like a huge step back… But what's the alternative, best to get the right treatment early on and accept this is the next part of this roller coaster journey. Think I'll need a few more books and tv series to keep me occupied. Thank you for your messages 🙂 we'll get there, regardless of the route we might have to take… 
Day +31

I am over the moon to be told I can go home TOMORROW!! Exactly 6 weeks to the day from when I came in to start this stem cell transplant journey. It has been a bit of a rollercoaster at times, and though there were really low times, and know I have a long road to full recovery yet, I am extremely thankful for the journey and second chance I have been fortunate enough to be given!! I can't begin to consider how to write the words to thank my anonymous donor, or thank my family and friends enough for their love and support, but let's start with THANK YOU!!!!! Get this girl home to a bath and bed!
Day +30

Feeling thankful today, for the following, the NHS, Nurses, Junior Doctors, Family, Friends, Fresh air, Science, Medicine, The Journey, My Donor… Sometimes we need to look at how far we've come, and the magnitude of that journey, to realise how good things are…
Day +29
Surprise Yourself, by Jack Garrett – Always a winner to lift you up a bit… Great album too! No news on a release date yet, hoping for Tuesday but have to wait and see what they will do with the last IV I'm having, which are steroids and very important to prevent/help with the gut GvHD. Shouldn't be much longer, but as I've said this past week, the days seem to be getting longer… I feel so much better and feel more than ready to be home. Here's hoping we will get home soon! I do however have a visit from H this afternoon, and I can't wait!!
Day +26/27
Two more days with nothing much to report. I am now off the IV TPN, eating well, feeling very normal, and longing to be told the words 'we can send you home!!!' Alas, I am still waiting… The doctors need to lower one final IV steroid that they put me on last week and swap them onto pills, ensure my eating and absorption of pills are good enough to be home, and then I should be good to go!! I had high hopes of being home this weekend, but the doctors still aren't shifting on giving us any clues on when we might have the all clear. This is getting very tedious, with the days getting longer and longer… Only so much you can do for 5-6 weeks in one room! In other news, my neutrophils are now at 3.8 – far within normal the range, something to be grateful for!! Hard to stay upbeat everyday… 
Day +25

Today marks 5 weeks in hospital, that's 35 days!! Now that I'm feeling a lot better, cabin fever is definitely starting to set in!! Today I looked through my pictures from everywhere I was fortunate enough to visit last year, I went to; Paris, Hong Kong, Morocco, Poitier, Paris again, and then France again. I then spent the remainder of the afternoon searching for my first trip abroad as soon as I'm allowed, I can't wait!!! For the first time since being in here I have been disconnected from my IV pump for a couple of hours, which is a dream!!! 
Day +23
This quote is so relatable to me right now! This morning I had the joyous experience of visiting the Endoscopy ward for a procedure I won't share the full details of, but I'm sure you can gather the ins and outs, so to speak!!!. This was ordered to further investigate the potential of me sh
owing symptoms of gut GvHD. It wasn't the nicest start to the morning but only took ~10 mins in total once I wa
s in, and the consultant said he couldn't immediately see any signs of GvHD, but took biopsies to check, which will take a few days to come back. But good news for now. The rest of the day I have managed to eat the most food in a loooooong time and felt very w
ell, and even managed another freedom break outside for a walk and fresh air. Though these procedures and details aren't for everyone, I'm trying to document what a leukaemia patient can experience during a stem cell transplant as I found there really isn't much out there to read, when I tried to understand more about it. Looking forward to trying a few different foods next week… Hoping to be home soon!! 
Day +22
Not only have I been privileged to see pictures of and been able to FaceTime two of my best friends on their wedding day, I also have managed to eat three times today without any hideous side effects, a few rice crispies followed by some spoonfuls of plain rice, and some ready salted hula hoops to finish.. I also managed a little trip outside and enjoyed the fresh air… What a day!! My neutrophils have risen to 2.8 today as well! 11th June you are a good day in my book, really hope it continues like this…
Day +19/20/21
I've predominantly been wrapped up in my blanket for the past three days. Having another little dip with my progress ATM. I have been sick quite often for the past few days and showing some symptoms that I won't divulge, that suggests I am potentially showing a case of gut Graft vs. Host disease. Which signifies the graft (donor cells) are recognising my cells (host) as foreign and it doesn't like them, and so you see symptoms that suggest the body is trying to get rid of them. A small or acute case of this is a 'good' thing as it suggests my new cells are wanting to take control and my full blood counts are rising so they are making my red, white blood cells and platelets from the stem cells in my bone marrow. The past 4 days have been a little testing and I feel pretty exhausted and sick of this environment, think we have a bit of a longer stay in here than I'd hoped for, but next Tuesday marks 5 weeks and they quoted ~ 6 weeks to me so still within that time frame, and better it happens now rather than going home and having to come back in. Today is 3 weeks since I received my new cells, another milestone passed. Just got to keep trucking on… And hope that again we see improvements over the weekend. 
Day +18
Today Mum forced me to get on the bike for a little ride (bit of tough love as I was moping), better to get back moving as soon as you can, and I was actually glad for it after moaning about it prior! I slept for a lot of the afternoon after all the excitement of the bike, in between reading, crosswords and games of Uno. Nothing much to report really, I ate less today in an attempt to be kinder on my stomach and think it has helped, so far so good. They have taken me off the Morphine driver and are slowly reducing my IV drugs. Having a bit of a feeling sorry for myself time, and longing for home, free from IVs, constant checks, and monitoring of input and output!! 
Day +17
"This too shall pass", something I have to keep saying ATM. I have been trying to reintroduce food to my stomach these past few days, but it is proving tricky. Having not eaten anything solid in 12 days prior, my stomach isn't enjoying food and I'm throwing up everything I try, which is very annoying. One of the requirements of getting home is to be eating enough cal
ories, so still have a way to go with this yet. I also need to be taking all pills orally and therefore they won't allow me out if I'm not keeping the pills down either.. It's no where near as bad as the throat saga so I shouldn't complain, but now that I'm feeling lots better, it's getting harder to say goodbye to Mum each day and not want to run out the door with her… 

?

 but…. This too shall pass and I hope to make it home next week realistically.. Today is still only 4 weeks since I came in, and they suggest most people are in for 6 weeks total. Hope you've all enjoyed your meals today, I am extremely jealous, savour all your food!! 
Day +16
I escaped!! My neutrophils dipped a little today to 1.6 but the doctors said this might happen and is a normal response after the initial rise, but said it was still ok to get outside for a little fresh air (with mask of course) ?. Was lovely and sunny out there, but I had to stick to the shade, other than taking this snap. I walked down there and all the way back to my ward without needing the wheelchair we had, most I've walked in almost 4 weeks. Feeling very well today and managed half a sandwich for lunch, proper food!! They've switched most of my drugs back to pills now so slowly weening off the IVs. The sooner I'm eating well and able to manage all drugs orally, the sooner I can get hommmmmmmme!! 
Day +15
I'm feeling better with every new day. Today I managed some crisps, a build up milkshake, half an ice lolly, and a fruit pastille. Trying to take it slow with food, but it's tough to know what's best approach for introducing different foods after not eating for so many days. I had 4 lovely visitors today, which was great, the day flew by and I managed to stay awake t
he entire time!! My neutrophils hit 2.0 today, sitting within normal range now, they are really having a party in my bone marrow!! Will hopefully sleep like a baby tonight after all the excitement from my guests. 
Day +14
This morning my neutrophils were 0.9!! They gave me a growth factor injection last night which boosts white blood cells and mine had a little party over night. I feel so much better and my throat has eased up lots, I even managed half a bag of wotsits for lunch! FOOOOOD actual food!! They even spoke about getting plans ready for sending me home for next week sometime, if we understood what they were saying correctly… Today is a good day, amazing what a few little cells can do!!
Day +13
Crosswords are getting me and mum through the days in here, especially since I can use my voice again!! Today we had more news on my little neutrophils, they are now at 0.2, again small shifts, but shifts in the right direction!! Mum thought it would be fun to name the first one Norman the neutrophil, and so today we hoped to find Nemo, which we did – Got to keep yourself amused somehow in hospital… Hopefully they'll either go up again tomorrow, or at least stay the same. Today has been a good day, I only had one little nap and felt relatively well the whole day, and even managed some squash and a milkshake! So definite progress in my throat. Here's hoping it's all positive progressions from now on…
Day +12
Total parenteral nutrition (TPN) was started yesterday and I think it's done wonders already, feeling like I have more energy today. It has a very distinct smell, kind of like cooking fat, not ideal! I also have HUGE blood count news, my neutrophils are at 0.1 ? – though this is a minute rise, it is a rise and means that hopefully we are on the road to engraftment!! 
The doctors suggest these levels may waiver for a few days before seeing a definite steady rise, but it has made my day, week, and year!! I really hope this is the start of something wonderful… It's now also very Important to keep a close eye on any GvHD symptoms! So doctors will be checking my skin for rashes and asking lots of symptom related questions each day! 
Day +10/11
I had been feeling better on day +9 and the morning of day +10 was good too, however as the day progressed my throat started back into its old habits of rendering me voiceless and in a lot of pain, I suspect the talking in the am and day before might have contributed to this!! Must not get ahead of self when feeling better!! Today is day +11, again I've mainly slept and hated every minute of being awake due to my throat… The pain is relieved momentarily by IV paracetamol (administered every 6 hrs) but always comes back. I'm getting very frustrated with the long days and really hope we see improvements towards the end of the week… Having not eaten anything solid in 9 days, they are starting me on nutrients via my Hickman line later today, it will be good to get some energy from it!! Nothing else to report really, still trucking on… 
Day +9
A very boring day today, which I suppose is a good thing medically. They gave me a different anti-sickness last night which can make you very sleepy, and that it did!! I slept soundly from 8:30 pm until the morning and have slept on and off pretty much all day today!! The only eventful part of today has been watching Dirty Dancing this evening, "I carried a watermelon" – man I could eat some watermelon!! But my throat is still prohibiting eating/drinking!!
Day +8
(28.05.16) Today is World Blood Cancer Day (WBCD) and though it is only 9:30 am and I still have the whole day ahead of me, I am so happy to report my mouth is almost clear of Mucositis and throat is feeling much much better, think the Morphine driver has kicked in over night!! I couldn't be happier right now and how appropriate on this day!! It is still too early to see any rise in blood counts to signify engraftment but this little relief feels like a miracle!! Spread the awareness of world blood cancer day!! Know the symptoms, they are so subtle – NIGHT SWEATS, EXCESSIVE BRUISING, FATIGUE, BONE PAIN, LETHARGY!!
Day +7
One week has passed since receiving my new stem cells, and I would pretty much describe it as a week from hell. So many different reactions to drugs, the feeding tube fiasco, and the sorest throat I've ever experienced, with pain relief no where in sight regardless of the strength of drug! Yesterday we clipped all my locks off as all my new hair had started falling out by the handful, so I am back to the bald look for a while. Today they fitted my Hickman line with a Morphine driver (seen in picture), it enables a small dose of Morphine to be released over 24hrs, I don't feel like it has done anything today, so have had oral soluble paracetamol and OraMorph too in combination, which has helped. I am willing time to speed up right now so that we start to see any improvement in my throat, I can handle all the other effects but this is just unbearable, swallowing is kind of a necessity!! Here's to a better day tomorrow, please please please!! ???
Day +6
Blood glorious blood!! Finally they decided a haemoglobin of 68 was low enough to transfuse me… I'd been feeling very lethargic the past two days and today has been hard to even keep my eyes open ? – I am having two units back to back, so should feel perkier this evening/tomorrow. (Guys cover your ears) On top of everything that's been going on, they stopped my hormone pill and so have also been tackling my period alongside all my side effects, and with low platelets (<30) and haemoglobin I've really been feeling it!! Today I've mainly slept so not been that exciting for H and mum. But the doctors say things should start to ease up after the weekend, which is wonderful to hear!! Just a few more days and I might be able to eat something solid… Think positive healing vibes for me ?? 
Day +5
I love this quote, I am so fortunate to be surrounded by the most beautiful, caring and positive people. I've had a rough few days and the nurses and doctors say it may only get worse… My throat is pretty sore and so I'm not talking much and only managing build up shakes and what feels like life saving ice lollies!! I've lost a stone in weight in two weeks, fastest diet of my life, fortunately I ate like a pig in preparation for this!! All in all rubbish ATM, but your messages and pictures today really bought a smile to my miserable face and a few laughs worth the throat pain. I love you all so much, thank you for all your messages and offers of visits, I'm not quite in a place for regular visitors, but I will let you know ASAP and enjoy a lolly with you all… I get to see Harriet, my sister, for the first time in over two weeks, and I can't wait!
Day +3/4
Had a bit of a dramatic day yesterday so didn't get a chance to post. I had a reaction to an anti-fungal drug, Ambisome, high heart rate and excruciating abdominal pains that travelled up my oesophagus, felt like an acidic burning feeling. They stopped the drug and ran it over a slower time but it happened again towards the end and I got a massive swollen bottom lip – Angelina Jolie style! All very odd as I've had this drug twice weekly in both induction phases of treatment, they intend on giving me something else for the remainder of time here… Phew!! I was also given magnesium over 1 hour instead of 5 accidentally, no damaging effects just felt very hot and flushed and absorption of it would have been minimal. Also had a small dose of Methotraxate chemo, no issues there, had it many times before. Better today, though my mouth is getting a bit sorer, currently enjoying a calippo to try counteract it. This is all so unpredictable… 
Day +2
Though I am 'smiling' in this picture, this feeding tube was not a fun proc
edure!! No anaesthetic or numbing, I'd pretty much describe it as horrendous! They tend to put feeding tubes in before the potential Mucositis (from TBI and chemo) in your mouth and throat gets too painful to fit and to ensure the gut is still being used if you are unable to manage to eat on your own. The loose tubing is slowly working its way further down into my belly via gravity and swallowing, and will be tight to my face for the remainder of our journey together… Which I hope will be a short one! Throat and nose are a little painful from it all but glad it's over and done with. I also received some much needed platelets today as mine are pretty much bottoming out. May get some blood next week too as my haemoglobin is very low too – so important to Leukaemia patients, as always thanks to those that donate!! Looking forward to a good nights sleep as only had one nap today!! ? – UPDATE… the tube was thrown up in pm, all for nothing and one of the scariest experiences to date, as my nurse call was unanswered for a while, and so had half the tube out my nose and mouth, and found it hard to breath, panic stations!
Day +1
Nothing better than the comfort of your mum, no matter how old you are, she sat and held my hand and stroked my head pretty much the entire day! Pretty slow day, not much to report, managed to eat three times today and enjoyed a lovely twister for pudding which helps soothe my throat like a dream. The doctors are discussing when might be best to try putting feeding tube in before my mouth and throat get too sore from TBI effects, probably be Monday. Not really in love with the idea, but better to be prepared…
Day 0
Here we go, the stem cells are here from Wales and are going in!! Feeling extremely grateful to my non-related donor, thank you so so much for your magical cells. I'm homing in on my accepting vibes, I hope we get on swimmingly!! If you wanted to get involved and be a life saver go to @anthonynolancharity or @deletebloodcancer, without these amazing volunteers and workers from these charities, epic science like this wouldn't be possible!!
Day -1
This is the face of a very happy patient that survived 4 days of back to back total body irradiation, today was my last blast and I did not faint or throw up! Feels like such an achievement ha!! Tomorrow is DAY ZERO, when I will receive my precious new donor stem cells!! Exciting times!! Calippos all round to celebrate!
Day -2
Penultimate day of TBI. Fainted again this morning due to my low blood pressure and having to stand for a long period of time, then proceeded to almost faint and then throw up in this evenings session! Me and TBI DO NOT get on!! No lunch and probably no dinner for me, I'll stick to my calippo for tea. Slept most of the day… Which doesn't help the low blood pressure, but the TBI really takes it out of you. Last day tomorrow, thankfully!!
Day -3
Second day of TBI kicked off with a little fainting episode this morning whilst I was standing in position, such an attention seeker, great team of nurses, doctors and radiologists sorted me out and I was able to continue with the morning session after a little sit down. The rest of the day I have been VERY sleeping but perked up a bit now. Just waiting down in radiology for my second hit, fingers crossed for no fainting. Managed a sausage sandwich for lunch too. Finally able to have a visit from my Mum after sore throat gate, was so much better having someone with me all day.
Day -4
Had my first total body irradiation (TBI) this morning. All went well, just very tiring standing in a set position for long periods of times, especially when you haven't eaten in a few days post chemo. This is the lead lung protection that is placed in front of me when the radiotherapy is happening. So far I feel OK, have to go back at 4 pm for 2nd dose, which will be the case for the next 3 next days too. Just ordered some toast which I'm very excited for!!!
Day -5
The last three days have been vile, and this morning I finally got a little relief after getting some morphine for the horrendous abdomen pains I'd been having. I managed to get a good few hours sleep and a shower, and after dozing all day I feel a lot better, though I have zero energy. About three spoonfuls of jelly is all I've eaten for a few days so I'm about to attempt some cheese and onion crisps! This is bloody hard! Tomorrow I start TBI for four days…
Day -6
Got the most sleep since being here last night, but was woken often by toilet breaks and headaches, also got a rash all over my body, all from the Campath. Last night was my last dose of it thank god as think I've managed to have every reaction possible… Feel as sick as a dog today, but have my second bag of Cyclophosphamide going up soon. Meh! 
Day -7
Had another rough night with Campath, this time I experienced; chills (full body), temp of 39 degrees, headaches, flushed skin, and wheezing/coughing, fortunately no bone pain, so was a breeze in comparison to the night before. Today I had my first dose of Cyclophosphamide (chemo), and with that there were abdominal pains etc. In the picture I am waiting to go into Radiology to get final measurements for TBI that starts on Monday, keep your germs to yourself! I'm very tired and would like to sleep without any interruptions but don't think I'll be getting that luxury anytime soon!
Day -8
I took a video, but it doesn't really show full extent of shakes/chills I had last night from Campath, I kept going hot and cold even though my skin was very warm, had flushed skin, a severe headache and the worst bone pain I've ever experienced, specifically in my pelvis. Happy to report it all eased off after I received a drug to reduce these effects. Wasn't much fun for a good few hours though. Feeling much better this am.
Day -9
Here is the 30 day protocol, let the drugs commence! Today they start Campath, which is administered in an attempt to reduce the risk of GvHD and graft rejection. Most people have a reaction (flu like symptoms) to it within the first day or two. Chemotherapy starts on Friday, and the TBI on Monday. In the words of Mario "errrreee we gooooo"
Day -10
10th May 2016, I have arrived in my room at Southampton General and started to unpack my bits. I am pretty apprehensive, but ready to get started with this next phase of treatment. I know it is going to be extremely tough and scary, but I am extremely fortunate to have this opportunity, world class medicine, and the care and support from the wonderful NHS staff. So lets get going…